Occupying the Edge
We are half way through summer, and our current 'Islands' issue at 'The Chop' is at its peak!
When we started thinking about interesting topics that relate back to the concept of islands, our minds quickly turned to edges as a concept within our field. Throughout this article, we will talk about different typologies inspired by this timeless theme that has inspired a great variety of work across the fields of landscape architecture, urban design, and architecture.
The idea of edge, as boundary, limit or border consists of an in-between. It's a non-place where something stops existing and something else begins. Multiple landscape projects focus their efforts on rethinking these concepts.
'Manhattan U' by BIG, 2014
After hurricane Sandy, local architects have proposed a series of designs meant to protect our city's coastlines from future climate disasters. The 'U Project' by BIG consists on a protective system around 10 continuous miles of low-lying topography in Lower Manhattan. A series of programmed park spaces activate the edge, occupying a complex infrastructure. This built environmental edge is occupiable and vibrant, bringing people closer to the water while simultaneously building awareness about shifting sea levels.
'Surrounded Islands' by Christo in Biscayne Bay, Miami, Florida 1983
In a very different way, the artist Christo encircled eleven islands in Biscayne Bay, Miami, as part of his installation 'Surrounded Islands'. He covered the water with 6.5 million square feet in of floating pink woven polypropylene fabric, extending it out 200 feet to create an ephemeral and phenomenological edge. Surrounded Islands was a work of art underlining the various elements and ways in which the people of Miami live, between land and water. By using a complementary man-made color which for Christo references Miami's 'Latinity', the artist tries to translate the rich colors of the sky and the bay, as well as the change in the physical movement of the water.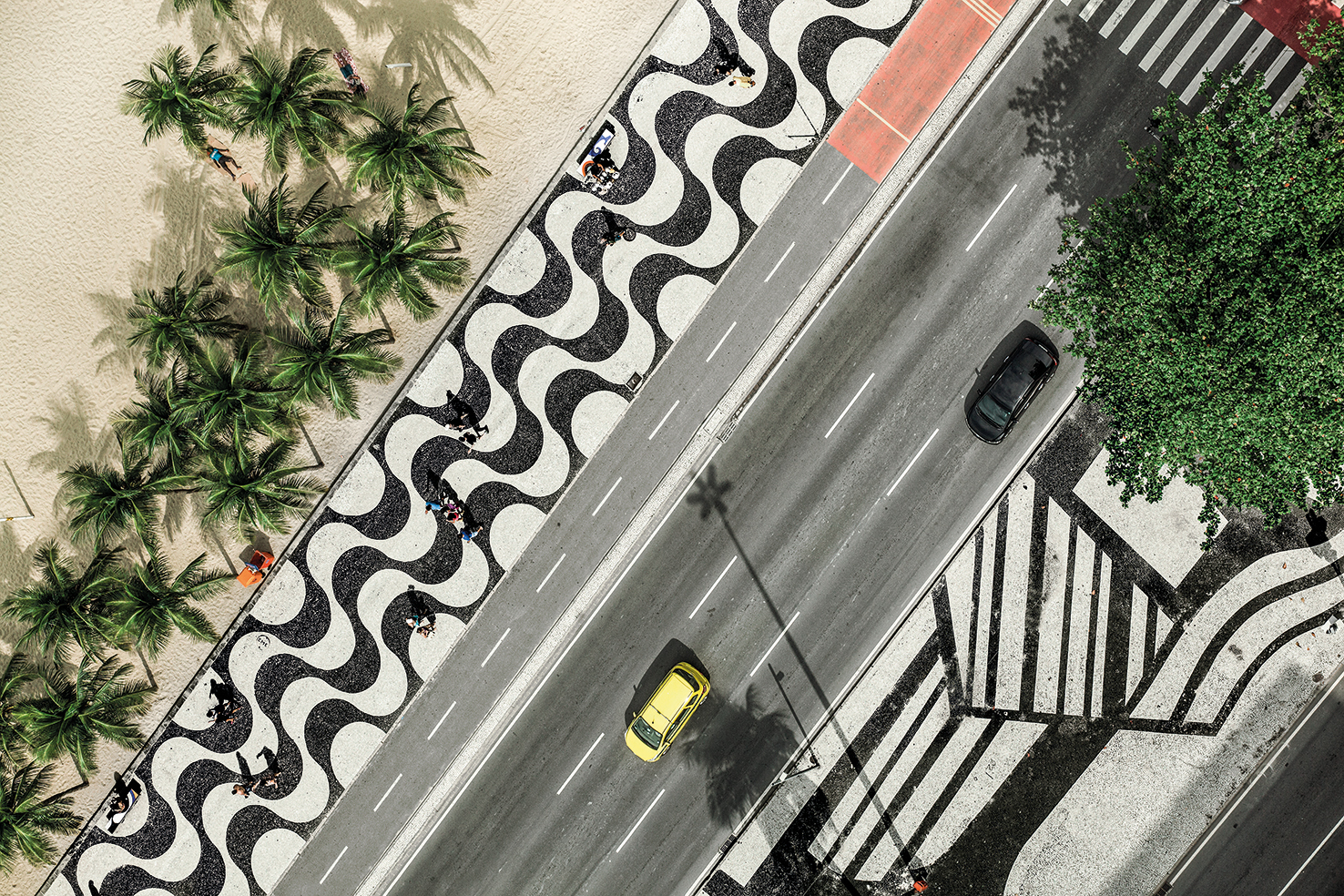 'Copacabana Beach' by Burle Marx, in Rio de Janeiro, Brazil 1971 // 'Benidorm West Beach Promenade' in Benidorm, Spain by Carlos Ferrater Partnership OAB 2005-2009
Landscape architects have created topographic edges to transform cities into icons. The Copacabana Beach boardwalk, for example, by the Brazilian landscape architect Burle Marx was a modern abstract interpretation of a traditional Portuguese paving pattern using waves of black and white stone sets. Benidorm's beachfront from architect Carlos Ferrater is meant to work as a hinge between the town and the sea, between natural and artificial. Capturing the organic lines as a reminder of natural wave forms.
'Microcoasts' in Vinaròs Castellón, Spain 2007 by Guallart Architects // 'Havøysund Tourist Route' in Norway 2012 by Reiulf Ramstad Architects
Not all edges need to be linear or unidirectional in order to be categorizes as such. Micro-edges can happen in borders and still own the singularities of an edge. The Microcoasts installation at Vinaròs, Spain, plays with the idea of how small a space or non-space, for us border, can be in order to have an identity. Small hexagonal timber platforms act as islands on the coast line. These topographies introduce new surfaces for new uses depending on the visual relationship of themselves within the water. On the other hand, Havøysund Tourist Route by Reiulf Ramstad Architects acts as a physical link between the roadside and the seaside. This minimal architectural intervention elevates the experience of walking into such a special place as the Arctic Ocean is.
Toledo Museum of Art's Glass Pavilio' in Toledo, Ohio 2006, by Kazuyo Sejima and Ryue Nishizawa, SANAA
The last example of border that we would love to highlight is perhaps the least expected of all of them. It is more architectural but pushes blending both of them together. The traditional Japanese concept 'Engawa' refers to a peripheral connector of the inside and the outside of the house. Engawa is the in-between nature and building, a welcoming and inviting place of transition which allows just for the opposite: outside projection and opening towards the exterior. This concepts is innate in traditional Japanese architecture, and contemporary architects are continuously rethinking it with a modern take. This we will call it the philosophical edge.
Because not everything is black or white, and gray is always a possibility, that's why multiple typologies of edges exist. Which one is your favorite this summer?